Explore

Hagar of the Pawn-Shop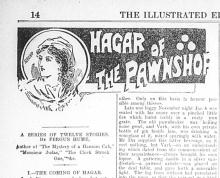 Bibliography of sources relevant to Fergus Hume's 1898 novel, Hagar of the Pawn-Shop.
Sources in this collection
The list below includes sources from this Collection's Subcollections.
Owner
Courtney Floyd
Accessibility
This collection is Public - accessible to all site users
Subcollections
This collection has no subcollections.
Members